Turning the World back to God
Interview with Maharajji
ShantiMayi's Quest
Visit to His Holiness the Dalai Lama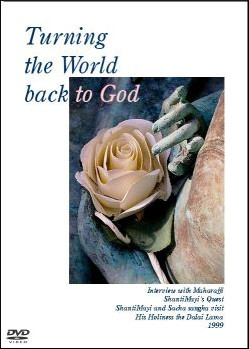 Playing time 1h31
MP4 Order Code D05M

-The video begins with an interview with Hans Raj Maharajji, ShantiMayi's Master, in Sacha Dham Ashram, Rishikesh, India. Maharajji speaks about how He met his Master, and what happened from that on. He also speaks about the essence of ShantiMayi's work for the world at large.
-ShantiMayi speaks about the new phase of her work, and we will follow her to several places such as Terre de Sacha, Her ashram in France; we will be chanting in the ancient abbey of Serrabonne and the cathar castle of Peyrepertuse, all in the French Pyrenees. We will follow ShantiMayi to La Gomera (Canary islands) and make a boat trip to the dolphins.
-Dharmsala (India): visit to His Holiness the Dalai Lama
-Glastonbury (England): tree planting and a stop at a crop circle.
"It's a very special time on our planet.
Many people feel that something is occurring in the world...a change a big change. We are standing at the edge of a cliff and either we are going to fly or we will just fall off.
A transformation of consciousness is necessary and is occurring.
The foundation of this transformation of consciousness is the Gayatri Mantra.
We know this time to be difficult and dark and yet it is a time of awakening on earth, a grand opportunity to touch ourselves in a way like we have never touched ourselves before as a true and beneficial humanity, as a real global family.
It is a time of renaissance, another "golden age" is emerging".
~ShantiMayi~