The Embrace
Interview with ShantiMayi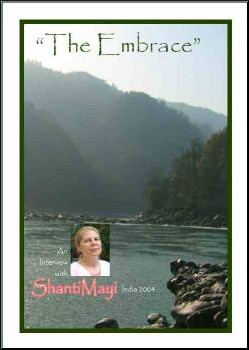 playing time: 1h01
MP4 Order Code D01M

ShantiMayi, a spiritual teacher born in America, attracts students from all over the world. ShantiMayi travels ceaselessly, and she stays also with Her Master Maharajji in Sacha Dham, India, where this interview takes place. ShantiMayi brings us to an embrace of all Ways to God.
".....Some say (when referring to realization) that there is nothing to be done. You can work on it or not... However, as long as you are troubled or suffering a sense of separation, you remain attached to your opinions and/or projections.
If you continue to harbor resentment and/or expectation, if you compare yourself with others... then... there is something you can do to bring the light of awareness into cloudy uncertain areas of your life"
In this DVD ShantiMayi is interviewed by Kali, and many issues are covered such as: gradual or direct awakening, devotion, wisdom, Buddhism & Hinduism or why any "ism"?